Contact
1st floor, Engineering Building #8

+81-3-5841-6032 / 1678
Mon.-Fri. 9:30-12:00, 13:00-17:00 工学部8号館1階

03-5841-6032 / 1678
月曜日~金曜日9:30~12:00, 13:00~17:00
Student Exchange Program 交換留学
派遣学生 (東京大学 → 協定校)
There are two ways to participate in exchange programs at the University of Tokyo's School of Engineering.
A: Through the School of Engineering/Faculty of Engineering
B: Through the University-wide Student Exchange Program (USTEP)
https://www.u-tokyo.ac.jp/adm/go-global/en/index.html
https://www.u-tokyo.ac.jp/adm/go-global/en/application-tips-USTEP.html
The following procedures are for individuals who will be applying through A (School of Engineering/Faculty of Engineering). If you are interested in B, please refer to the web site above.
東京大学工学系研究科/工学部では交換留学をする方法が2通りあります。
A: 工学系研究科/工学部を通しての留学
B: 東京大学本部を通しての全学交換留学(USTEP)
※注意:全学と工学系研究科/工学部の部局交換留学との併願は認められません。全学・部局双方の交換留学に同時期に申し込むこと及び応募時期が異なる場合でも留学開始が同時期となる留学について、全学・部局双方の交換留学に申し込むことは認められません。
http://www.u-tokyo.ac.jp/ja/administration/go-global/program/exchange.html
https://www.u-tokyo.ac.jp/adm/go-global/ja/application-tips-USTEP.html
以下は上記Aの方法で交換留学をする方法です。Bで行きたい方は上記のウェブサイトを参照してください。
Study Abroad Procedure
留学手続き
Acquire a minimum score of TOEFL iBT 79 (CBT230) or IELTS 6.5.
TOEFL Information Site:
http://www.cieej.or.jp/toefl/index.html
CIEE 03-5467-5489
IELTS Information Site:
https://www.eiken.or.jp/ielts/
03-3266-6852
Choose one school to apply to from the list of the partner universities (①)
Check the deadline
★Refer tothe deadline list (①) or the information available on each school's web site
Prepare the application documents
★Refer to the list of the application materials (①)
Submit the application documents through your department office by the deadline
★3 sets of the application documents (1 original and 2 copies) with a cover letter (②) that has been stamped by your department office need to be submitted through your department office to OICE.


Important: If your TOEFL/IELTS score is not high enough, or if the deadline has already passed, we will not accept your application.




TOEFL iBT79点(CBT230点)又はIELTS6.5以上を取得する
TOEFL情報サイト:国際交流教育交換協議会(CIEE) 03-5467-5489
http://www.cieej.or.jp/toefl/index.html
IELTS情報サイト:日本英語検定協会 03-3266-6852
https://www.eiken.or.jp/ielts/
協定校一覧(①)を参照し、行きたい学校を一校に絞る
締め切りを確認する
★締め切り一覧(①)、もしくは各協定校のウェブサイトを参照
必要提出書類を揃える
★提出書類一覧(①) 
専攻/学科事務室を通して締め切りまでに必要書類を提出する
★必要書類を期限までに全て揃えて、コピー2部と共に、カバーレター(②)を付けて、専攻(学部)事務室を通して国際交流チームまで提出


重要:TOEFL/IELTSの点数が足りないもの、もしくは申請締切の過ぎたものは受け付けられません。




Interview
面接について
After we check your application documents, we fix the date for the interview, then we will have it in Japanese and English. (If you do not speak Japanese, we will have it only in English.) It will take for about 10 to 15 minutes. There is no dress code. We will inform your result by e-mail within a week.
提出書類確認後、面接日程調整を行い、面接を日本語と英語で行います。面接時間は約10分~15分です。服装に規定はありません。結果は1週間以内にメールでお知らせします。
Apply to the desired university
希望協定校への申請
After you pass the interview, please complete the application process. If the acceptance letter comes to you, please hand in the copy to us. If it comes to us, we will give it to you.,
面接通過後、派遣希望先大学の指示に従い申請を進め、完了させてください。受入許可書が届いた場合、国際交流チームへ提出してください。受入許可書が国際交流チームに届いた場合は、こちらから学生へ連絡します。
★★If you have already finished the  procedure for the exchange program, please go to "prospective and Current Exchange Students at the Partner Universities" page.
★★既に派遣が決まった学生は「派遣決定者及び現在留学中の交換留学生」のページをご参照ください。
After your return
帰国後
Submission of the study abroad report and questionnaire
留学報告書の提出・アンケート調査
All participants must submit a report (any style) within a month of completing studies overseas. Please write about your time preparing to study abroad, your life at school (including your lab and class experiences), life in general (about your dormitory, city, language, etc.), and about job hunting and the preparation of your thesis (if applicable).
Also, we would like to ask for your cooperation in answering a questionnaire on the experiences from your participation in student exchange programs/ study-abroad programs, for the betterment of future programs. The answers you provide will be used for data collection and reporting purposes, but information that will lead to identification of personal names will not be disclosed or shared with other parties.
留学を終えた学生は、留学終了後1ヵ月以内に留学報告書(書式自由)を提出する必要があります。内容としては、留学準備期、留学期(研究室や授業の様子)、留学終了準備期の経験などや、向こうでの生活について(寮、街、言語)、また就活準備、論文準備等についてお書きください。
また、東京大学工学部・工学系研究科では、交換留学/海外派遣から帰国した学生を対象にアンケート調査を行い、今後のプログラム運営に役立てたいと考えています。アンケートに対する皆さんからの回答は、本学部・研究科における工学教育・研究の改善にとって極めて有用なものですので是非ご協力下さい。皆さんからの回答情報は、報告書等にまとめる予定ですが、個人名が特定できるかたちで外部に出すことはありません。
Study abroad report meeting
留学報告会
A study abroad report meeting is held annually. Students who participated in a study exchange program share their experiences regarding life overseas, their lab, language, scholarships, etc.
国際交流チームでは、留学を終え帰国した学生による報告会を毎年開催しております。海外での生活、研究環境、語学、奨学金などについて報告していただきます。

Preparation for Study Abroad
交換留学のための準備
Examples of study abroad preparation time management.
先輩方の留学準備の例
エコールポリテクニーク:Sさん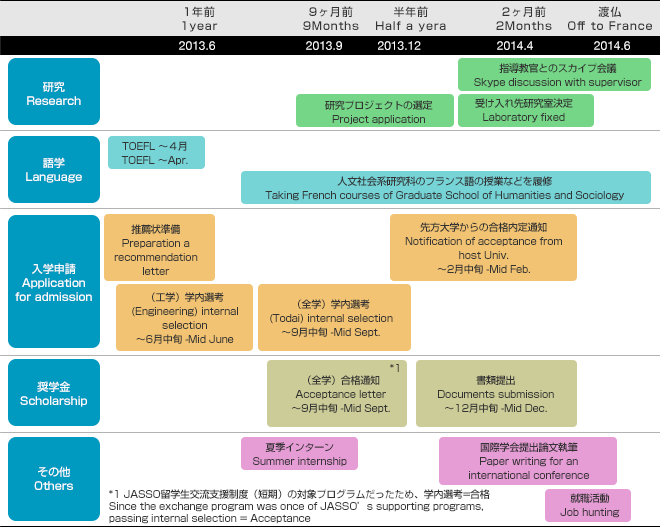 スイス連邦工科大学(ETH):Mさん